About Nursing Personnel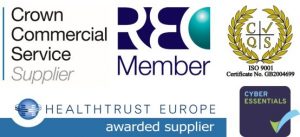 Nursing Personnel (part of Medical Professional Personnel Ltd) is a NHS Framework approved highest paying nursing agency under the Health Trust Europe NHS framework agreement. We are approved to supply NHS Hospitals in all regions across the UK in all specialities. For further information go to HealthTrust Europe.
Nursing Personnel is also an approved supplier under the LPP (London Procurement Partnership) framework agreement supplying NHS hospitals across London. For further information go to NHS London Procurement Partnership.
Medical Professional Personnel Ltd T/A Nursing Personnel are proud to be members of the Recruitment and Employment Confederation (REC). All members must abide by a professional code of conduct, with the aim of improving standards at agencies across the UK, giving the best possible level of service to those who use recruitment agencies.
Medical Professional Personnel Ltd T/A Nursing Personnel are proud to be an approved supplier on the new Crown Commercial Services (CCS) Multidisciplinary Temporary Healthcare Personnel Framework. This latest award makes us one of the few NHS agency suppliers to have a place on all existing frameworks in the UK, ensuring Trusts receive even greater value for money while helping to maintain the highest possible standards of care.
These framework agreements allow Nursing Personnel to supply the NHS across the UK with agency nursing staff in all geographical regions and all clinical specialities.
As a result of providing a quality service to the NHS, Nursing Personnel have been winning new business and renewing existing contracts across the UK from Newcastle to Southampton, and London to Manchester including the West Midlands, Derbyshire, Lincolnshire and many more locations across the UK.
At Nursing Personnel, we pride ourselves on providing quality nurses to the end user. We achieve this by paying agency nurses high pay rates. Our pay rates are some of the most competitive nurse pay rates across the UK, and as a result, Nursing Personnel have a very large pool of agency nurses available to work.
Nursing Personnel are also one of the most competitively priced nursing agencies for supply to the NHS in the UK. We aim to provide a quality service offering value for money for the NHS. This is achieved by our relatively low commission rates when compared to some nursing agencies.
The nursing agency industry is a specialised area and Nursing Personnel have a proven track record across the UK; succeeding in meeting NHS specialist needs where other agencies have failed. Through competitive pay rates and value for money charge rates, Nursing Personnel is fast becoming one of the largest and highest paying nursing and medical recruitment agencies in the UK. If you are an NHS Hospital, Trust, or Health Care provider looking for temporary nursing agency or nurse bank solutions, Nursing Personnel are here to help. If you are a nurse or health care worker looking for nursing jobs then contact our registrations team to join one of the best nursing agencies in the UK.
Seeking Work
Nursing Personnel have flexible temporary or permanent jobs for nurses available across the UK, for Specialist Nurses, General Nurses, Healthcare Workers, Theatre Staff and Operating Department Practitioners (ODPs). For more information please click Nursing Jobs. We pay some of the highest rates to agency workers across the UK.
To see what our current staff say about Nursing Personnel and why they like to work with us, please see the below video:
The NHS
Nursing Personnel are an approved nursing agency under the Health Trust Europe and LPP nursing framework agreements, supply nursing and health care staff to the NHS across all of London.
Supplying nursing staff to the NHS from Newcastle to Southampton and Kent, we have over 20 years experience in recruiting quality staff with specialist nursing skills to meet the NHS's demanding nursing requirements. Nursing Personnel also have a specialist permanent nursing jobs section recruiting nurses for substantive posts for the NHS across the UK.
With some of the most competitive pay rates and charge rates to the NHS, Nursing Personnel can supply the highest standard of nurses and some of the most competitive prices in the UK.
Whether you are nurse looking for work, we can provide the continuity of NHS jobs you are looking for, and if you are a NHS Trust seeking agency nursing staff Nursing Personnel can supply the highest quality of staff at the most competitive price ultimately saving your Trust money.
Private Sector
Nursing Personnel across the UK are supplying Private Hospitals and Care Homes with over 5,000 Health Care staff available for work. I Need Staff.
Quality Staffing
Nursing Personnel are regulated by The Care Quality Commission (CQC), Health Trust Europe and LPP on behalf of the NHS. Nursing Personnel are also registered with Data Protection and the DBS.
If you require any further information please contact us ».